I rarely post notices, but this is important, not just for burlesque (which would not exist in New York as it now does if it weren't for
the shows in Coney Island
), but for so much more that matters to New Yorkers concerned with standards of community, historicity, and ethical building and land development. The following comes to me via
Lola Staar
:
The Time to SAVE CONEY ISLAND is NOW!!
Please attend this Public Scoping Hearing, June 24th, 6PM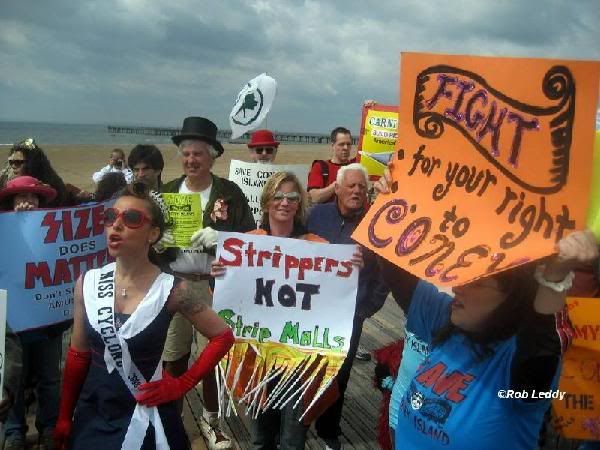 Please voice your opinion about the City's Plan to redevelop Coney Island at this Public Scoping Hearing!
WHEN:
Tuesday, June 24, 2008, 6pm
WHERE:
Lincoln High School
2800 Ocean Parkway
Brooklyn, NY
WHY:
This is your opportunity to officially voice your opinion, on public record, and Change the Future of Coney Island.
Please review the City's Plan and attend this hearing, prepared to testify and make a statement about this Plan and how you feel Coney Island should be redeveloped!!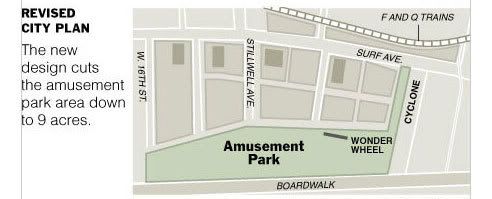 The City's new plan almost completely abolishes the amusement district for the sake of high rise hotels and retail.
Coney Island is currently zoned for 61 acres of amusements; the city's new proposal reduces the amount of amusements to 9 acres.
This reduction of the Amusement Distirct will destroy Coney Island's legacy as "the People's Playground" and defeat the goal of creating a world class amusement and tourist destination.
25 to 30 story high rises and retail do not belong in the amusement district!
Retail is no substitute for amusements!
There is plenty of space outside of the Amusement District, in Coney Island for residential, hotels and retail! Why destroy the amusement district forever to meet this goal?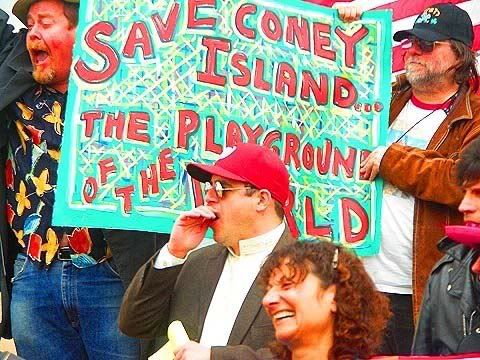 Save Coney Island says
YES
to Revitalizing Coney's World Famous Amusement District!

NO
to 26 New High Rises of up to 30 stories each in the current Amusement District!

NO
to Retail, Malls or "Entertainment Retail" in the Amusement District!

NO
to shrinkage of the Amusement District from 61 acres to 9 acres!

YES
to preserving Amusement Zoning in the Amusement District!!

YES
to keeping Coney Island the People's Playground- providing accessible Amusements for ALL to enjoy!!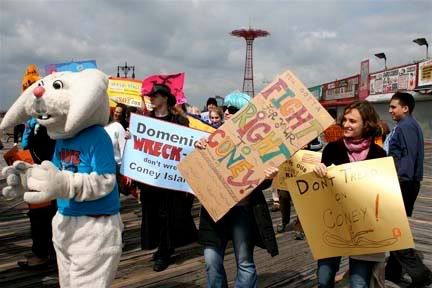 If you Cannot Attend the Hearing- Write a Letter!!
If you can't come to the hearing, you can submit a written testimony by writing a letter, expressing your opinion to:
New York City Economic Development Corporation
110 William Street
New York, New York 10038
Attention: Rachel Belsky, Vice-President
OR, Send an email to:
rbelsky@nycedc.com
WRITTEN TESTIMONIES MUST BE SUBMITTED BY JULY 11th, 2008
Please send a copy of your written testimony to
Mayor Bloomberg, City Council President Christine Quinn, and your City Council Member.
Mayor Michael R. Bloomberg
City Hall
New York, NY 10007
Phone 311 (or 212-NEW-YORK outside NYC)
Fax (212) 788-2460
Cristine Quinn
224 West 30th St (Suite 1206)
New York, NY 10001
Phone: (212) 564-7757
Fax: (212)564-7347
Posted by Jo Weldon, Headmistress of
The New York School of Burlesque
, for
burlesquedaily.blogspot.com
.