Asian Burlesque Extravaganza 2019
Instructors: Ms B LaRose and Miss Di'Lovely
Workshops With Stars of The Asian Burlesque Extravaganza!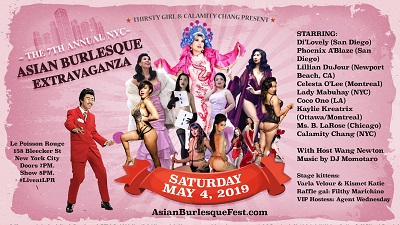 These special workshops are available in NYC only in association with this annual event! Don't miss out! Saturday, May 4, 2019, 1 - 4 pm.
1 - 2.25 pm: Slay Cabaret with Miss Di'Lovely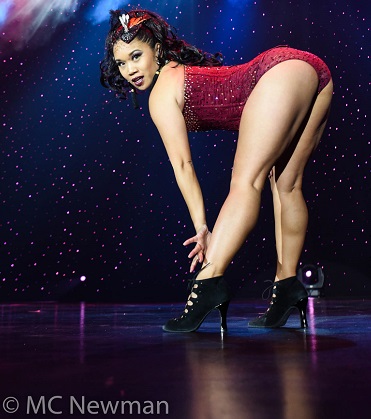 Above: Photo of Miss Di'Lovely by MC Newman.
Not for the faint of heart! This class starts with a light warm up and across-the-floor combinations to review syncopated movement, fusing contemporary jazz, modern, and hip hop. Jazz Funk is a hybrid dance style, showcasing the intense dynamics of musicality, femininity, and expression. Bring on the sass, as you learn a high energy choreographed piece!
2.35 pm - 4 pm: Floorwork with Ms B LaRose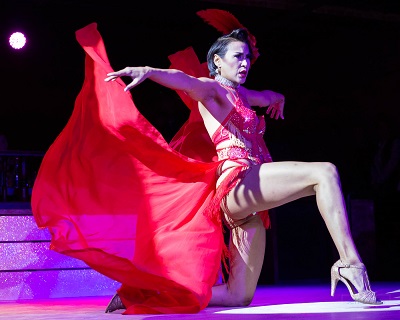 Above: Photo of Ms B LaRose by Jeff Millies
"I never felt so comfortable being myself until I had seen you dance" is one of the most compelling commendations to receive off stage. Help unleash your prowess, build self confidence, and emote to connect with your audience. Ms. B LaRose's classes are intended to help unleash the inner goddess, create a powerful presence, extend energy out beyond the stage, and be comfortable with movement and stillness.
Werk that Floor is a beginner to intermediate class that challenges students to adapt movements typically used in the club for burlesque. This class is dedicated to movement across the floor, floor transitions, transitions back up, and learning dance combinations. The course is intended to make movements more confident, acts more dynamic, and adds a little more flair and erotic elements to the sexiest acts.